« Back
9 Ways To Avoid Stress When Processing A Tourist Visa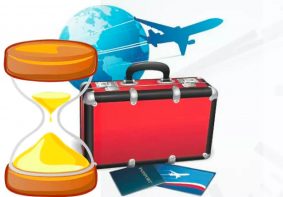 Visa processing is considered as the most toxic part of planning overseas travel. Although there are certain countries where one can visit even with just a passport, most countries still require a visa for foreigners to be able to enter their country. With all the things you have to complete and accomplish when applying to travel abroad, you also have to face the dreaded visa process which does not only include document processing but also a personal interview. People find this process frustrating and stressful because this will determine if you can visit a certain country or not. Here are 9 tips on how you can process and get your visa-hassle free
1. Make Sure All Your Documents Are Complete
You have to make sure that even before you start processing your visa, your documents are already be complete. You find the list of visa requirements through a country's embassy website. Aside from ensuring that your documents are complete, you also have to be sure that everything is valid and legal. You should also have a photocopy of all your documents for future references.
2. Keep Yourself Informed And Updated
Even if you have people or agencies processing your papers for you, you still have to be well informed and updated regarding the status of your application. You should also be immediately informed if there are changes or discrepancies in your documents or in the process. This will help you avoid delays.
3. Establish Your Purpose For Visiting The Country
This will come very handy during the interview process, knowing the reason why you want to visit the country and letting the embassy know about this reason. Sometimes, one of the basis for approval would be a person's reason for visiting the country so your answer should always be valid and accurate.
4. Have A Strong Reason To Return To Your Country
Foreign countries like to control the number of foreigners residing and migrating to their country, so this is also asked during a visa application interview. They would like to prevent illegal migration. You should have a strong reason why you would go back, like a family, a car and/or a house that you own, a stable bank account, a business, etc.
5. Keep In Mind That Consulates Do Not Practice Discrimination
Some people fear that their application might be rejected because of their race, skin color, gender preference, etc. Regardless of the things mentioned above, they will approve an application if you are able to pass all necessary documents and the interview.
6. Take Note Of Fees And Expenses
Since you are processing documents, you should be ready and prepared to pay for fees. Some fees should be paid immediately and only have a short validity so it is good to be prepared and know the things to pay for in advance.
7. Ensure That Your Passport Is Valid For Travel
This can also be included in the document preparation, but this should be the very first step when planning to travel abroad. Make sure that your passport has not yet expired and that it is eligible for travel to avoid problems in the future.
8. Prepare For The Interview
For most people, the interview is the most stressful part of visa processing. To be able to prepare for the interview, you might want to practice at home in front of the mirror or with a friend. Research about possible questions and prepare your answers. Also, make sure that every time you make a personal appearance, whether for the interview or just passing documents, you are dressed in a decent manner and should always look professional.
9. Research About The Country's Embassy And Important Things About The Country
This is one way of showing genuine interest in their country and this is an additional point for you. You should know some important things about the country, such as their religion, culture, practices, etc. Questions related to this can be asked during the interview.