« Back
Should I Include My Middle Name on My Passport?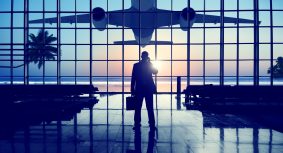 Middle Name Passport Requirements
Passport applications are complicated and overwhelming. One small mistake can cause your passport application to be delayed or even rejected! You'll want to make sure you take your time and review your documents before you submit your application. If you have upcoming travel plans, you may want to use a service like our
Passport Expediting Service
. We can help you go through your documents and ensure your passport is also processed in time for you upcoming trip. Providing accurate information on yourself or whomever the passport is for is crucial for how quickly it is processed and back into your hands so you can travel. This includes middles names! We recommend that you always complete your documents as you would on your tax returns. The passport is a federally issued identification document so be sure to use your full legal name.
Middle names can be tricky when filling out your passport application, but don't let that be the one factor that holds you back. A middle initial is acceptable on your passport instead of providing the full middle name. However, as a general rule of thumb, you should always enter your name as it appears on the documentation you present to prove your citizenship. This may include your social security number, drivers license, naturalization paperwork, and
birth certificates
. This is important for the application process of a passport and visa as well as when you book a flight or any type of travel ticket.
What if my middle name is not on my travel documents?
To avoid any confusion for this process or flight reservations always use the same name as the one provided on your documents. For people with two middles names or two last names (due to marriage and family situations) it is advised to provide the name exactly how it is on your government documents instead of providing a shortcut like an initial. If your name does not match your travel itinerary or flight tickets, you should contact the airline right away to resolve this issue. Nowadays many airlines will charge you to change your name on your flight itinerary, but it's better than showing up to the airport and missing the flight!
In the event something major or minor is wrong on your printed passport card or passport book you may at any time during its
validity
, even if it's been used for travel already, the passport can be sent back for corrections. If chosen to send it back in the processing times are typically 2-3 weeks, but can increase as the holiday/travel period peaks. Be sure to write on the outside of the envelope "Urgent Attention: Correction" when sending it back in. If your passport is less than one year old, there is no fee to issue a correction. If your passport is more than one year old, you will need to apply for an
expedited passport renewal
. We have many options that will allow you to get your passport as quickly as you need it.